Efter alla skandaler efter Climategate och de felaktigheter som förekom i IPCC:s senaste rapport skall organisationen granskas av en internationell akademisk kommitté. Bland IPCC-kritikerna är naturligtvis skepsisen påtaglig med tanke på de tidigare vitmålningskampanjerna. Men nu börjar kritiska synpunkter och kommentarer att droppa in, både från personer som varit direkt involverade i IPCC:s arbete och från utomstående iakttagare.
Hans von Storch säger exempelvis:
The IPCC was never prepared for the situation that someone would come up with criticism that could be perceived as credible. The IPCC is really amateurishly organized in this regard.
John Christy I en intevju refrererad av Lubos Motl :
John Christy  has explained how the climate scientists (and especially IPCC lead authors) have become gatekeepers and their community has become a victim of groupthink, exaggerations, Hollywood movies; how his papers and opinions were deliberately ignored by the process; how good an idea it is to listen to Steve McIntyre
Roger Pielke Jr kommenterar hur IPCC hanterat hans (och medförfattares) undersökning av ökade kostnader för orkaner som framställdes som en konsekvens av ökad global temperatur:
Not only did the IPCC misrepresent the science of disasters and climate change, but went so far as to issue a highly misleading press release to try to spin the issue and put an unprepared IPCC WG2 chair on the BBC to try to defend the undefensible. I was promised a response from the IPCC to my concerns, a response that has never been provided.
En tung inlaga kommer givetvis från Roger Pielke Sr, som bl.a. skriver:
Without new scientists leading the IPCC process as LAs and CLAs who are not assessing their own research work, the next IPCC report is doomed to continue to be completed by an oligarchy that is using its privileged position to advocate for a particular perspective on the role of humans within the climate system which conforms with their published research.
David Henderson, tidigare chef för OECS:s Economics and Statistics Department skickar in ett långt inlägg  om hur politiska beslutsfattare blivit missledda av IPCC:
Over the past 22 years, governments everywhere and a great many outside observers have put their trust in the official expert advisory process as a whole and the IPCC process in particular. I have come to believe that this widespread trust is unwarranted.
Och I en intervju för BBC  säger IPCC:s ordförande, Rajendra Pachauri, att han välkomnar en kritisk granskning. Där ser man; för bara några månader sedan så var alla kritiker till IPCC platt-jordare, voodo scientists och köpta av big oil.
Ingemar Nordin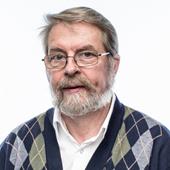 Professor emeritus i filosofi. Forskningsinriktning är vetenskapsteori, teknikfilosofi och politisk filosofi. Huvudredaktör för Klimatupplysningen.